Regarded as one of Fernie's favourite dining venues, Max Restaurant is known for its creative menu, generous portions and warm mountain hospitality. Experienced and attentive staff ensures that our guest's dining experience is a pleasurable one. Room service is also available through Max Restaurant for guests wishing to dine in their rooms.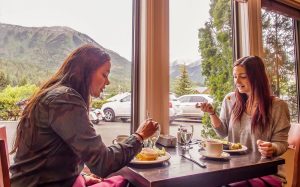 ---
Hours of Operation
Breakfast – 7:00 AM to 11:00 AM Daily (Sunday to Saturday)*
Lunch – 11:00 AM to 2:00 PM Daily (Sunday to Saturday)
Dinner – 5:00 PM to 9:00 PM Daily (Thursday to Saturday) **
* For early risers, we also offer a convenient Grab n' Go Breakfast option for hotel guests from 5:00 AM to 8:00 AM daily.
** Max Restaurant is closed Sunday to Saturday for dinner during slower seasons and we encourage our guests to enjoy dinner service in our Pub Bar & Grill. Featuring comfortable seating, an outdoor patio and a delicious menu available daily from 12 Noon until 10:00 PM, the Pub Bar & Grill is also family-friendly until 9 pm (Minors, if accompanied by a parent or guardian, are allowed in the Pub Bar & Grill until 9:00 PM).
Signature dishes include:
---
Breakfast
Classic French Toast – two pieces with your syrup & whipped cream* along with a fresh fruit cup. (*on request)
 Blackstone Benny – our traditional Eggs Benny with spinach & tomato
 Canadian Breakfast Hash – diced ham, bacon, sausage, tomato, mushrooms, & cheese
 Continental Breakfast with house made granola, fresh fruit, honeyed Greek yogurt & a croissant
---
Lunch
 Chicken & Avocado salad with orange slices, cucumber, tomatoes, carrots, & lime dressing
 Grilled Reuben Sandwich
 Philly Beef Dip
 Brie & Bacon Jam Burger house-made beef patty with melted brie, house made bacon jam & spinach
---
Dinner
Marketplace Steak or Chop, house cut
Featured Salmon or Seafood special
Chicken Parmesan
Blackened Steak Salad
Chorizo Pollo Penne
---
To view current menus of Max Restaurant please click on the following PDF files:
---
About Our Menu – Striving For Sustainability: In addition to making the majority of our menu items in house, we proudly feature regionally sourced produce from Red Hat Co-Operative Farms in Southern Alberta, high quality beef from Alberta ranchers, and Ocean Wise seafood products.
To stay up-to-date on specials & events, check out our Events Page.
Please call us at 250.423.6871 for dining reservations and more information or visit our Contact Page for a list of appropriate hotel contacts.
Please note that when joining us to dine in Max Restaurant, all of our featured specials are produced in limited quantities and subject to availability at time of ordering.
Share This