As part of The Arts Station's fall concert series, Canadian artist FARMER THE BAND will make a visit to Fernie.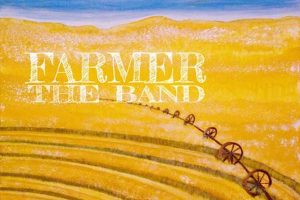 This multi tasking, multi instrumentalist, indie folk musicians from BC. fill the stage with vocal harmonies, guitar, bass, harmonica, drums, percussion, and anything else that's in arms (foots) reach. Their Americana music – sorry, Canadiana music – and songwriting and storytelling flow between humour and heartache with sincerity and optimism.
As their writing evolved, different instrumentation was needed to enhance the story of the song in performances. Two guitars work for some songs but others need a bit more bottom end to drive the song so a bass was added. Then a foot tambourine for a bit of a bounce followed by a kick drum, snare, hi hat, harmonica – all played at the same time. They even found a way to fit in the occasional trumpet line!
Lourine and Glen figured out a way to fill the sound as a duo, at first,  it was only a few songs that needed the extra instrumentation. Then it was almost the full set. "We added more instruments but forgot to add the players!" It may look gimmicky but Farmer The Band gives a full sound because that's what the song deserves. The most beautiful part of the arrangement is that all the songs can still be performed with an acoustic guitar and the two voices.
The singer songwriting team started off performing with two guitars in local coffee shops and farmers markets as a folk duo. Now they perform with a van full of instruments in venues coast to coast as husband and wife.
Tickets available at The Arts Station
To view the full list of performances please see the Arts Station's Events Calendar.
---
The Park Place Lodge is a proud sponsor of the concert series and we are thrilled to help support the cultural vibrancy the Arts Station contributes to our community.
Please join us for a meal prior to the performance in Max Restaurant or the Pub Bar & Grill. We are only a short 5-minute walk away from historic downtown Fernie and the Arts Station.
In addition, if you are from out of town and would like to join us for a Fernie hotel stay to take in one of these wonderful concert performances, please call our toll-free reservations line at 1-888-381-7275 or Book Online.
Share This