As part of The Arts Station's winter & spring  concert series, Canadian artist, Ken Hamm will make a visit to Fernie.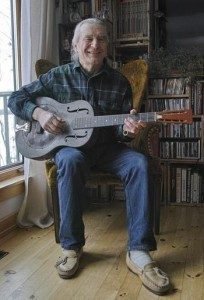 Ken Hamm is a well known acoustic solo musician based in Forget, SK. His playing is influenced by early blues recordings and a love of old timey music, resulting in a varied repertoire of original and traditional songs ranging from metal guitar driven hard edge blues workouts to softer dobro and banjo pieces.
"…his exceptional musical gift for picking guitar and plumbing the tradition has turned him into one of Canada's most entertaining experts in the field of southern delta blues …a feeling of authenticity continues to trickle through on his recent solo blues album, the excellent independent production 'Galvanized'"
– Roger Levesque, 'The Edmonton Journal'
Listen to a song here or check out their website in full here: www.kenhamm.com
Tickets available at The Arts Station
To view the full list of performances please see the Arts Station's Events Calendar.
---
The Park Place Lodge is a proud sponsor of the concert series and we are thrilled to help support the cultural vibrancy the Arts Station contributes to our community.
Please join us for a meal prior to the performance in Max Restaurant or the Pub Bar & Grill. We are only a short 5-minute walk away from historic downtown Fernie and the Arts Station.
In addition, if you are from out of town and would like to join us for a Fernie hotel stay to take in one of these wonderful concert performances, please call our toll-free reservations line at 1-888-381-7275 or Book Online.
Share This