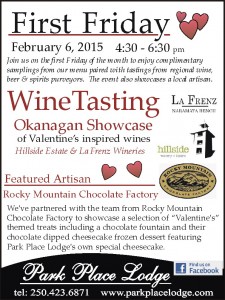 Do you love Chocolate, Wine & all things Valentines?
Join us on the first Friday of the month to enjoy complimentary samplings from our menu paired with tastings from regional wine, beer & spirits purveyors.
The event also showcases a featured local artist or artisan each month.
Featured Wine:
With this month being February, our team at the hotel have put together a Valentine's inspired collection of wines to showcase:
• Mosaic 2005 ~ Hillside Estate Winery
• Naramata Reserve 2006 Bordeaux ~ La Frenz Winery

Featured Artisan:
Rocky Mountain Chocolate Factory
We've partnered with the team from Rocky Mountain  Chocolate Factory to showcase a selection of "Valentine's"
themed treats including a chocolate fountain and their chocolate dipped cheesecake frozen dessert featuring Park Place Lodge's own special cheesecake.
This recent Fernie Free Press article is a great source of information about our local Chocolate Factory.
Please join us!
Share This