Join us on the first Friday of the month to enjoy complimentary samplings from our menu paired with tastings from regional wine, beer & spirits purveyors. The event also showcases a featured local artist each month.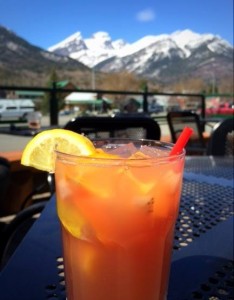 Featured Drink:  Pub Sangria with Cru Wines
To celebrate the start of patio season, staff will be on the Pub Patio pouring samplings of our own in-house Sangria made with Cru Wines from the Okanagan's Kalala Organic Estate Winery.
Featured Appetizers:
 Our kitchen will be highlighting a Cinco de Mayo inspired Patio Platter.
Featured Artist: No featured artist this month, other than our Pub staff's sangria making artistry plus the opportunity to enjoy Mother Nature's beauty from our Pub Patio!
NOTE: The event is on the patio rain or shine (we'll have tents if need be). The format of this month's First Friday is changing slightly as we will be providing a sampling punch card, which guests will be asked to complete and then submitted into our draw for a bottle of Cru Wine at the end of the evening.
Friday Night Dinner & Drink Special: Complimentary Glass of Sangria with purchase of dinner entrée (Min. $14) in the Pub Bar & Grill. $5 Glasses of Pub Sangria.
We invite you to join us!
Please note that when joining us to dine in the Pub Bar & Grill, all of our featured specials are produced in limited quantities and subject to availability at time of ordering.
Share This