The Pub is pleased to welcome Peach & Quiet Duo for a special September performance on Wednesday September 20th, from 6-9PM.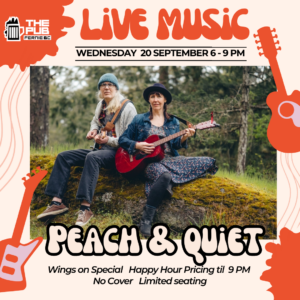 Two years ago the duo Peach & Quiet, aka Jonny Miller & Heather Read, reached out to the world from their log home on Canada's West Coast with their debut album, Just Beyond the Shine. In a few short months, that record topped the folk and roots music charts in North America and had airplay around the world.
Reviewers raved, calling it "a basket of surprises'" 'superb", "sublime", "utterly original." The album received praise across Canada, the U.S., Britain and Europe, and hit four best of the year lists. One of their songs "Flowers Grow" was even translated into Chinese. Just Beyond the Shine was also named BBC Scotland's Record of the Week.
Beautiful Thing: https://www.youtube.com/watch?v=0VmV31GRad0
No cover. Limited seating on a first come, first serve basis.
Wings on Special ($9 Wing Baskets) & Happy Hour pricing extended to 9 PM on performance nights.
Come out for some great live music and try one of our constantly rotating selection of tap beers. Cheers to Summer Fernie!
Share This