Team Trivia is back this winter at the Pub Bar & Grill at the Park Place Lodge hotel in Fernie, BC!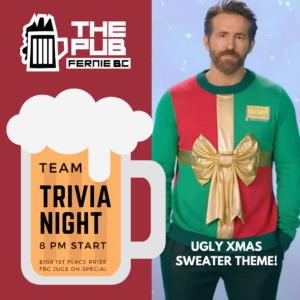 What better way to socialize this winter then with a game of Trivia? Join us Thursday night at 8:00 PM.
We've lined up another season of fun times with our host Roberto! Get your team together and join us for drinks, fun & games! Prizes for 1st Place and Fernie Brewing Jugs are on special for $19. Tables are on a first come, first serve basis and the first round of questions start at 8:00 pm sharp so plan accordingly. See you there!
Special Christmas Trivia Edition
Do you think you can look as good as Ryan Reynolds does in an ugly Christmas sweater? The Pub crew and our Trivia Host Roberto are feeling festive so we'll be hosting a special holiday themed Trivia night on Thursday, December 22nd.  Brush up on your Santa knowledge and don you best or ugliest Christmas sweater. Special prizes for the best dressed team. The first round of questions start at 8:00 pm sharp. See you there! HINT: Swipe to the next photo for the online bonus trivia question!
Also, the reason we chose the Ryan Reynolds picture is because we're supporting his annual ugly sweater SickKids fundraiser. We'll be making a $500 donation this year to the SickKids Foundation and the great thing is those funds will be matched by Samsung Canada – so $1000 bucks to a worthy cause. If you would like to top up our contribution you can do so at the Pub on Trivia night or you can make a direct contribution at
Happy holidays!
Share This