WINTER IS COMING! TIME TO UP YOUR PUB TEAM TRIVIA GAME!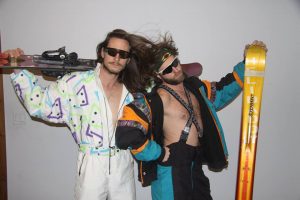 We're as excited as you are for the ski hill to open up next week, and to celebrate the arrival of the Griz's fluffy white goodness we're having a WINTER LAUNCH PARTY for
Pub
Trivia this Thursday 24th. Not one, but TWO HOSTS (
Goff
and
Ben
– voted worst two DJs in BC). The winning team's bar tab will be paid for up to $200.
100% FARM-TO-TABLE G

LUTEN-FREE QUESTIONS

Free to enter
KICK-OFF is shifting back to the winter timeslot of 8PM, so get down early to make sure you get a table.
We've also got some SUPER DUPER prizes in addition to the bar tab… a BIG BAG of FREAKIN' LEGO is up for grabs, a VCR player with possibly the most AWESOME collection of awesome VCR tapes is going out the door as well, and much more!
You'd be a dummy to miss it. So grab your team of up to 8 players together and come get competitive up in this!
8PM PUB THURSDAY BE THERE OR BE SAD.
Share This