As part of the Fernie Museum Emilio Picariello Exhibit this fall, the Park Place Lodge is pleased to sponsor a Friday Night Speak Easy on October 30th, 2015.
We hope you can join us!
More information on the event is featured below: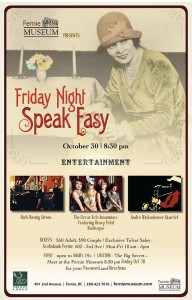 Its 1920 and Fernie is roaring!
In plain sight of the Fernie Temperance Society, a hidden Speak Easy operates in Fernie. Dig out your flapper dress and fedora hats for this illicit party featuring:
Jazz music by the Hark Raving Sirens and the Andre Wickenheiser Quartet

Burlesque entertainment by the Circus Insomniacs and Heavy Petal Burlesque

Plenty of food, heritage beer and moonshine drinks
To avoid attracting the attention of the Fernie Temperance Society and Chief of Police, Stephen Lawson, the location is a secret; come to the museum between 8:30 and 9:00 on the night of the event, show your ticket and get the directions to the location!
Tickets include entertainment, hot and cold hor d'oeuvres, and two complimentary beverages; cash bar available.
Tickets available exclusively at Scotia Bank, Fernie.
Event Sponsor:  Park Place Lodge and the IGS Group.
Event open to adults ages 19 and over.  
Share This