December 23, 2021 Update:
Both the Pub and Bistro offer full meal service and remain open during the newest round of restrictions.
In addition to the earlier restrictions the following the guidelines are now in effect:
In the the Pub and Bistro patrons must stay in the seat to which they are assigned, or at which they seat themselves, and must not move from table to table or mingle with patrons from other parties when not seated.
In the the Pub and Bistro no more than 6 patrons may be seated at a table, unless the party consists of one set of parents and their minor children.
In the the Pub and Bistro, patrons must remain seated, except to  to use a self- serve food or drink station, a self-serve lottery ticket dispenser, pay at a pay station, use washroom facilities, to provide assistance to another person who requires care or first aid, when leaving the premises, or to play pool, billiards or darts, with a maximum of five other persons who are in the same party as the patron and who are seated with the patron.
In the the Pub and Bistro, we have adjusted seating capacity to ensure adequate spacing between patrons.
Business meeting and events may continue to operate in accordance with the PHO on gatherings and events, ensuring they are at a reduced 50% capacity for the space they are in.
Earlier Restrictions from December 1, 2021:
Masks Mandatory Provincial Public Health Order: Masks are mandatory in public indoor spaces in all of BC for those aged 5 and older, including those vaccinated
Proof of Vaccination Provincial Public Health Order: Effective September 13, 2021 Proof of Vaccination which requires a Vaccine Card and Photo ID upon entry for anyone aged 12 and up is now applicable for:
Dining in the Bistro Restaurant
Dining in the Pub Bar & Grill
Dining on the Pub outdoor patio
Attending functions in our Park Place Lodge meeting rooms
Please keep in mind that for those who are unvaccinated, you are still welcome to pick up takeout orders from the Pub Bar & Grill. For breakfast, hotel guests who are unvaccinated or do not wish to dine in the Bistro, you are still welcome to order and pick up your breakfast through the front desk or take advantage of our Boxed Breakfast-To-Go options.
In addition, while masks in common areas of the hotel still required, the Proof of Vaccine requirement does not apply to guests staying at the hotel or to utilize hotel amenities including:
Hotel Pool & Hot Tub
Hotel Fitness Room
Hotel Room Service
Accessing Hotel Spirits Cold Beer & Wine Shop
Also please keep in mind the additional restrictions implemented noted below are also applicable:
---
Additional Covid-19 Details:
BC Government has mask and gathering orders in place, orders are enforceable, details below.
Indoor use of masks is again mandated as of August 21, 2021.
Proof of full vaccination is required for certain indoor activities in Fernie and throughout BC (including those noted for Park Place Lodge above).
Fernie Alpine Resort, Island Lake Lodge Catskiing and FWA Catskiing also require all guests and staff to be fully vaccinated.
As of November 16th, 88% of Fernie area residents 12 years of age and older have had their 1st shot, 81% are fully vaccinated (view BC data). There are 6 active COVID-19 cases, as of November 13th in the Fernie & Elk Valley area.
As of November 22, 2021 travel is allowed to Fernie for domestic/Canadian travellers and for international travellers that are fully vaccinated.
Travelers to Fernie are highly encouraged to travel safely, follow health orders and any health protocols such as distancing. Government is asking travelers who are sick or not fully vaccinated to remain home. Furthermore, guests showing COVID-19 symptoms are required to cancel their planned stay and not be permitted use hotel facilities. Please consider rebooking if not feeling well to keep cases from further increasing in the Interior Region of BC.
Park Place Lodge continues to operate with procedures which encourage limited direct interaction between staff and guests. This includes contactless check-outs, encouraging  guests to use of telephone for communication, departure only unit cleans as well as capacity restrictions, distancing and protective barrier protocols.
Pool / Hot Tub /Gym operations will continue to follow guidelines provided by the Provincial Government and Interior Health.  Policies that were implemented in December 2020 continue to be in place as no further guidance was provided as part of the Step 3 re-opening plan. This includes private bookings only in designated time slots.
The Covid Safety Plan is replaced by a new communicable disease plan that is less prescriptive and contains ongoing measures  we continue to maintain at all times as part of our Occupational Health and Safety Program. These include:
Policies supporting staff who may be sick with a communicable disease to stay home
Promoting hand hygiene by providing hand hygiene facilities with appropriate supplies.
Maintaining a clean environment through routine cleaning processes
Park Place Lodge is also be prepared to implement additional prevention measures as required by a medical health officer or the provincial health officer to deal with communicable diseases in their workplace or region, should those be necessary.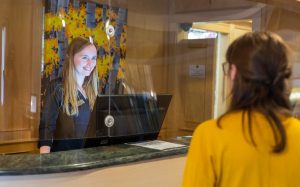 ---
Additional details on our safety and guidance documents are available by contacting the Park Place Lodge management team.
Additional resources related to Covid-19 and Travel to Fernie / British Columbia:
---
We kindly ask that all guests are patient and courteous towards our team. We are extremely proud of the way they have adapted to so many changes on the fly throughout this ordeal.
THANK YOU FOR YOUR CONTINUED SUPPORT and for understanding as we enter this next phase of Covid restrictions.
The health and safety of our guests and staff is our #1 priority. We have adjusted our operations, but we are still here to make sure you have a great stay! If you have any questions regarding our COVID safety plan, please send us an email at manager@parkplacelodge.com. Again, thanks for your support, we truly appreciate it!
Share This