At Park Place Lodge we are committed to mitigating the spread of COVID-19. In order to ensure the cleanliness of the hotel and the safety of our guests and staff is at the highest level, we have adapted existing and implemented new processes to maintain the utmost cleanliness within the premises. To learn more about the measures we are taking at Park Place Lodge, we have included information on our commitment to cleanliness and safety below:
---
GUEST PROTOCOLS TO MITIGATE RISKS
We are encouraging guests to book direct in order to ensure that they are kept up to date on current operating procedures
We are asking guests to self-identify if they belong to a risk group for COVID-19; if yes, we ask that they postpone their travels until the risk period has passed, in order to help us ensure the wellbeing of all our guests and employees
As of November 20th, a Government mandated mask policy is in effect. All guests must wear a mask when entering the hotel, common areas, and when unable to meet two metre physical distancing between other guests and hotel staff.
We have installed a plexiglass barrier at the front desk to minimise interactions with staff.
Contactless check-in and check-out can also be organized by contacting our guest services team directly
Respect staff and other guests by always distancing yourself 2 meters or 6 feet apart
Use of public washrooms and elevator is limited to 2 people at all times.
Wash hands often with soap and water or hand sanitizer. Hand sanitizer stations in key public areas throughout property
If you are unsure about any protocols, please ask our staff. Our guest services team and housekeeping team are well educated in all COVID-19 procedures and would be happy to provide further information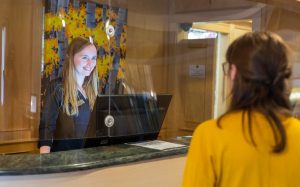 ---
ENHANCED CLEANING PROTOCOLS
Guest Rooms
We understand the importance of a clean and well maintained room during this COVID-19 situation. Enhanced cleaning protocols have been implemented to ensure our guest rooms meet or exceed all government guidelines.
Rooms are quarantined for 24 hours between guests
Enhanced cleaning checklists include the sanitizing of all high touch surface areas within unit
Housekeeping daily stay cleans are cancelled. Linens and amenities are available at the front desk if required
Enhanced cleaning products are in use and colleagues have been provided with appropriate training.
All dirty and spare linens are removed from the room. Laundry is washed at the highest appropriate setting and dried before handling
Glassware, cups, utensils are replaced between each guest.
Colleagues have been informed and trained on appropriate personal hygiene standards and regular hand washing is encouraged
Common Areas & High Risk Surfaces:
In addition to guest units, enhanced cleaning protocols apply to all common areas of the building:
Door handles (entrance/ exit doors/ washrooms)
Front desk
Lobby area furniture
Stairwell hand rails & Elevator
Public washrooms
Vending machines & Coin operated laundry
Pool, Hot Tub & Fitness Room Areas
Pub & Bistro Dining Areas
Spirits Beer & Wine Shop
Meeting Rooms & Business Centre
High risk areas will be cleaned a minimum of 2-3 times daily or more depending on usage.
Cleaning Products & Protocol:
Formula 333 bactericide used for all cleaning duties
Fresh cloths every surface
---
POOL, HOT TUB & FITNESS CENTRE
The pool and hot tub is now open from 11am – 10pm daily upon request. Due to COVID-19 occupancy limits have been set. Regular chemical testing, enhanced cleaning duties have been implemented to ensure our guests can use the facilities safely.
The fitness centre is now open from 8am – 8pm daily upon request. Due to COVID-19 occupancy limits have been set and time limits encouraged allowing maximum availability to all guests. Personal cleaning equipment is provided to each guest wishing to use the facilities. Our colleagues are completing regular sanitizing of machines, weights and all communal high touch surfaces during this COVID-19 situation.
---
FOOD & BEVERAGE: THE PUB AND BISTRO
Park Place Lodge currently is in Phase 2 of our plan to re-open food & beverage operations at the hotel. Pub Bar & Grill is operating Monday to Sundays, 12 Noon until Late with the Kitchen open from 12 Noon – 9 PM. Visit the Pub page for more information on our menus and how we plan to operate safely. Phase 2 also includes room service for hotel guests, enhanced in-room and grab n' go breakfast options, as well as a limited number of services for meetings and group functions in the hotel. More information on expanded operations including the re-opening of the Bistro will be announced as we finalize the details of Phase 3.
Update: Effective Tuesday, March 30, 2021, new COVID-19 restrictions require all indoor dining to be closed. The Pub will continue to offer take-out and, weather permitting, patio dining options daily Noon-8 pm. We will also continue to provide grab-n-go breakfast as well as room-service dining options for our hotel guests.  Visit the Pub page for more information on our menus and how we plan to operate safely.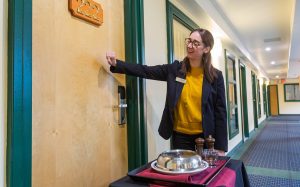 ---
MEETINGS & GROUPS
We continue to offer flexible and tasteful meeting and banquet facilities for up to 50 guests. Occupancy limits may increase to our normal 90 guests as the COVID-19 situation develops and government restrictions are eased.
Please contact the hotel directly to see if we can meet your needs. For additional information please visit our meetings and groups page.
---
SPIRITS COLD BEER & WINE STORE
Due to COVID-19 our store hours have changed to 9am to 10pm. To ensure safety for all guests the store currently has a 4 person occupancy limit. Plexiglass has been installed around the counter to reduce close interactions with our colleagues.
The Spirits Cold Beer and Wine Store is proud to introduce our new online catalogue and store .We encourage guests to browse online before buying to limit their time in the store. It also allows the great opportunity to purchase online and pick up in store. For more information related to our COVID-19 operations, please contact the store on 250-423-6871.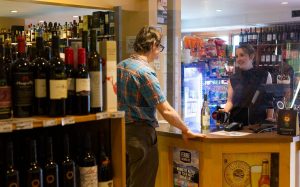 ---
STAFF PROTOCOLS TO MITIGATE RISKS
Employees are receiving frequent training on new protocols and procedures
As of November 1st, a mandatory mask policy is in effect. All staff must wear a mask when entering the hotel, common areas, and when unable to meet two metre physical distancing between other guests and hotel staff.
Staff should perform regular hand washing with soap and water for at least 20 seconds. It is suggested that hand washing be done:

Before starting shift
Before and after breaks
After touching or surfaces that may be contaminated
After sneezing, coughing, or blowing your nose
After touching your face or hair
After touching personal phones
After using shared equipment such as computers, cleaning equipment
After cleaning rooms

Rooms will be left vacant a minimum of 3 hours before being entered by cleaning staff
Staff are not to come in if you have any signs or symptoms of COVID-19 or have in the past 10-14 days
Respect other staff and guests by always distancing yourself 2 meters or 6 feet apart
---
For more information and details on our housekeeping and cleaning procedures as well as Covid-19 protocols, please review our full hotel COVID-19 safety plan here.
COVID19 Safety Plan for Guests and Park Place Lodge Staff_28 October
Additional resources related to Covid-19 and Travel to Fernie / British Columbia:
THANK YOU FOR YOUR CONTINUED SUPPORT! The health and safety of our guests and staff is our #1 priority. We have adjusted our operations, but we are still here to make sure you have a great stay! If you have any questions regarding our COVID safety plan, please send us an email at manager@parkplacelodge.com. Again, thanks for your support, we truly appreciate it!
Share This