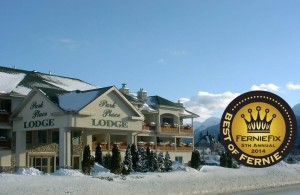 In operation since 1981, the Park Place Lodge has been completely renovated and upgraded to provide a full range of amenities and services for our guests. We also believe that we are still small enough to offer each of our guests a friendly, personalized experience that makes their stay in Fernie, BC truly unique.
For the business traveller, our Fernie hotel accommodations offer spacious guest rooms with modern amenities, meeting space facilities, business centre services and is conveniently located in centre of Fernie and the Elk Valley.
Hotel Amenities & Services
 24 Hour Front Desk
Room Service
Complimentary Guest WIFI (Wireless Internet)
Business Centre
Indoor Pool & Hot Tub
Fitness Centre
Spirits Cold Beer & Wine Shop
Pet Friendly Rooms on 1st and 2nd Floor
Free Parking
---
Front Desk Services
Friendly and knowledgeable front desk staff is available 24 hours a day to ensure that our guest's stay with us is a pleasant one. From dinner reservations, to booking adventure packages, to transportation and baby-sitting, our staff will look after guest's every need. Business services are also available through the front desk including Faxing, Photocopying, Mail and Computer Work Station access.
---
Pool, Hot Tub & Fitness Centre
The Atrium Indoor Courtyard is a favorite with hotel guests. The indoor atrium swimming pool and whirlpool is open 365 days a year. All of our first and second floor rooms open onto the atrium courtyard. The fitness room features a variety of basic fitness equipment including a universal machine, free weights, treadmill, elliptical machine and stationary cycle.
---
Spirits Cold Beer & Wine Shop
Open Daily from 9:00 am to 11:00 pm. Featuring a complete selection of premium spirits, liqueurs, wines and cold beer. Whether domestic or imported our vast selection is guaranteed to satisfy a wide variety of palettes. Our specialty British Columbia VQA wines and regional Craft Beers have won awards around the world. Our knowledgeable staff is on hand 7 days a week to assist guest's in their selection. The shop also features a selection of sundries and gift items. More Information 
---
Business Centre
Our small Business Centre  can accommodate up to 6 people and features a Computer Work Station with Printer, Scanner, Photocopier.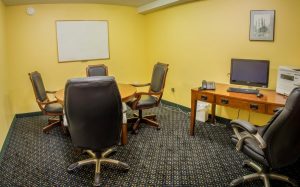 ---
The Bistro Restaurant– Known as one of the best Fernie Restaurants.
The Pub Bar & Grill – A Fernie favourite!
Meeting & Banquet Space – We offer facilities for meetings, a small conference or an intimate Fernie wedding.
If you have any questions about our hotel, our restaurants, or planning a Fernie vacation, please contact us. We're here to serve you and give you the best accommodations available in Fernie, British Columbia.
Share This