On Tap & on Menu is our seasonal update on two things we love here at the Park Place Lodge: refreshing new beers and tasty menu items!
What's on Tap and on Menu at the Pub
The sun is out and summer is in full swing here in Fernie! With this in mind, here are two of our summer favorites to enjoy while enjoying this wonderful weather on our Pub patio!
On Tap – Chase My Tail Pale Ale – Yellow Dog Brewing Co.
Featured on our BC Craft Beer Rotator Tap, Chase My Tail is a refreshing brew from the small but creative Yellow Dog Brewing based in Port Moody BC. This easy drinking, American style, pale ale pours rich burnt orange in colour, while the mouth-watering hoppy aroma hits you right before your first sip. Hints of citrus and grapefruit tickle the tongue with the firm malt backbone to back it up.This thirst quenching pale ale will have you running around in circles!
On Menu – Pub Philly Sandwich – A Classic!
This Pub classic continues to be one of our customer's favourite dishes. Featuring shaved beef, sautéed onions, bell peppers, Monterey jack cheese & an amazing cream cheese dipping sauce this sandwich is served on a crispy ciabatta bun along with your choice of soup, salad or fries.
It goes with saying these two items are the perfect pairing to enjoy on a warm summer evening while sitting on our Pub patio. We hope you get out to enjoy the sunshine as well as enjoy some great food and beer this summer while in Fernie BC. Cheers!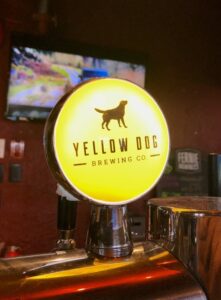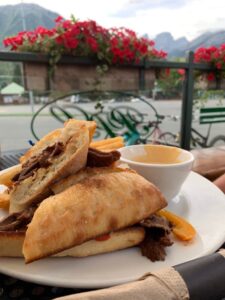 To see the full menu featured in the Pub Click Here. Don't forget that our full Pub menu is available for dine-in or take-out service.
As an added bonus, you can pick up a 6-pack of this tasty beer to enjoy afterwards at home from our Spirits Cold Beer & Wine Shop.
Share This