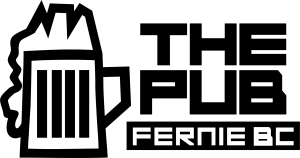 Join for a delicious meal & great time in the Pub!
DINE-IN & TAKE-OUT MENUS
PDF Copies of these menus are here:
The Pub Bar & Grill is now operating Sunday to Saturday, 12 Noon until Late with the Kitchen open from 12 Noon – 10 PM Tuesday-Saturday and 12 Noon – 9 PM Sunday-Monday. 
---
After a big day of skiing, mountain biking or fly-fishing, the Pub Bar & Grill is Fernie's favourite gathering spot to share a few good laughs over beer & chicken wings. Enjoy a delicious meal from our extensive menu available for lunch and dinner. Watch all the top sporting events on our large screen HD TV's or enjoy free WiFi internet access. Pool and foosball are just a few of the games at the Pub. In summertime, enjoy the sun and great mountain views on our outdoor patio. Reasonable prices and a large selection of refreshments (including 16 beers on tap!) served by some of the best staff Fernie has to offer, makes the Pub feel like your own neighborhood pub.
Guests looking for a casual dining option will enjoy the varied and extensive pub-style menu offered daily for lunch and dinner.
Signature menu items include:
Spicy Smokin' Joel Chicken Burger
The Loaded Pub Burger
Philly Beef Dip
Pub Chicken Wings
Chorizo Pollo Penne
Grilled Rueben Sandwich
The Pub Bar & Grill is also home to the best wing night special in town every Tuesday, Trivia Night Thursdays, Fish n' Chips every Friday plus Ghostrider Hockey Night in Fernie on Home Game Nights!
---
Weekly Meal Specials: (as of December 1/22)
Soup & Sandwich $13.50 Lunch Special Monday to Friday 12 Noon to 2 PM
PPP Mondays – Pool Tournament, $5 PBRs, $8 Poutine
Tuesday Wing Night
Wednesday – Wine & Pasta Special: Bolognese, Pesto, Leek & Pea or Featured Chef's Pasta $15. All Served with Garlic Toast. Choice of Penne, Linguine or Gluten Free pasta. Featured Wines $7.50 / 6 oz. Glass, $30 / Bottle
Fish n' Chip Fridays
Chicken Parmie Dinner Special Saturdays
Roast Dinner Sundays
Daily Feature Dinner Entree
Happy Hour daily 4-6 pm 
To view current menus of The Pub Bar & Grill please scroll to the top of the this page.
About Our Menu – Striving For Sustainability : In addition to making the majority of our menu items in house, we proudly feature regionally sourced produce from Red Hat Co-Operative Farms in Southern Alberta, high quality beef from Alberta ranchers, and  Ocean Wise seafood products.
---
The Pub Bar & Grill is now operating Sunday to Saturday, 12 Noon until Late with the Kitchen open from 12 Noon – 10 PM Tuesday-Saturday and 12 Noon – 9 PM Sunday-Monday.  With recent changes in provincial regulations, the Pub Bar & Grill is pleased to be family-friendly daily until 9 pm (Minors, if accompanied by a parent or guardian, are allowed in the Pub Bar & Grill until 9:00 PM)
To stay up-to-date on specials & events, check out our Events Page.
Please call us at 250.423.6871 for dining reservations and more information or visit our Contact Page for a list of appropriate hotel contacts.
---
September 1, 2022 Update:
While it appears that we have emerged from the many curveballs that Covid-19 has thrown at us, we continue to be impacted by local staffing shortages that have resulted from the challenges of the past two years. We look forward to returning to a greater sense of normalcy and our priority is still to create a safe positive environment for our staff and patrons. You will notice that as we work through the challenges, we have had to adjust our operating schedules as well as limit our drink and food menus. Also, our service team continues to implement extra health and safety responsibilities, this may impact the style or speed of service. We are doing our best to try and get it right and would be thrilled if you can give us your feedback. Do you have any awesome ideas that would improve your experience? Shoot us an email at pub@parkplacelodge.com. As a final note, we kindly ask that all guests are patient and courteous towards our team. We are extremely proud of the way they have adapted to so many changes on the fly throughout these challenges. Again, thanks for your support, we truly appreciate it!
To learn more about our hotel Covid-19 Safety Protocols:

---
Please note that when joining us to dine in the Pub Bar & Grill, all of our featured specials are produced in limited quantities and subject to availability at time of ordering.
---
Stay connected with our Pub Instagram feed:
Share This