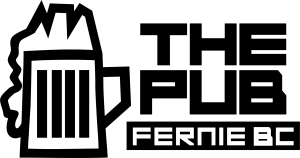 After a big day of skiing, mountain biking or fly-fishing, the Pub Bar & Grill is Fernie's favourite gathering spot to share a few good laughs over beer & chicken wings. Watch all the top sporting events on our large screen HD TV's or enjoy free WiFi internet access. Pool and foosball are just a few of the games at the Pub. In summertime, enjoy the sun and great mountain views on our outdoor patio. Reasonable prices and a large selection of refreshments served by some of the best staff Fernie has to offer, makes the Pub feel like your own neighborhood pub.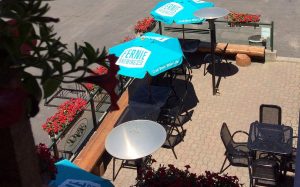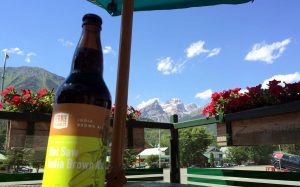 Guests looking for a more casual dining option will enjoy the varied and extensive pub-style menu offered daily for lunch and dinner.
Signature menu items include:
Smokin' Joel Chicken Burger
The Loaded Pub Burger
The Pub Steak Sandwich
Pub Chicken Wings
Basil & Pesto Penne
Philly Cheese Steak Sandwich
Blackened Steak Salad
The Pub Bar & Grill is also home to the best wing night special in town every Tuesday and Pub Team Trivia every Thursday!
---
Spring 2019 NHL Playoffs!
Join us in the Pub to catch all the exciting NHL Playoff action on our new 82″ 4K TV. Also enjoy $7 Pints & $17 Jugs of Kokanee & Tankhouse Ale. For our superfans, we'll also be giving away 3 Authentic NHL Jerseys from the 3 Canadian Teams playing in this year's playoffs. Ask your pub server how you play along & win!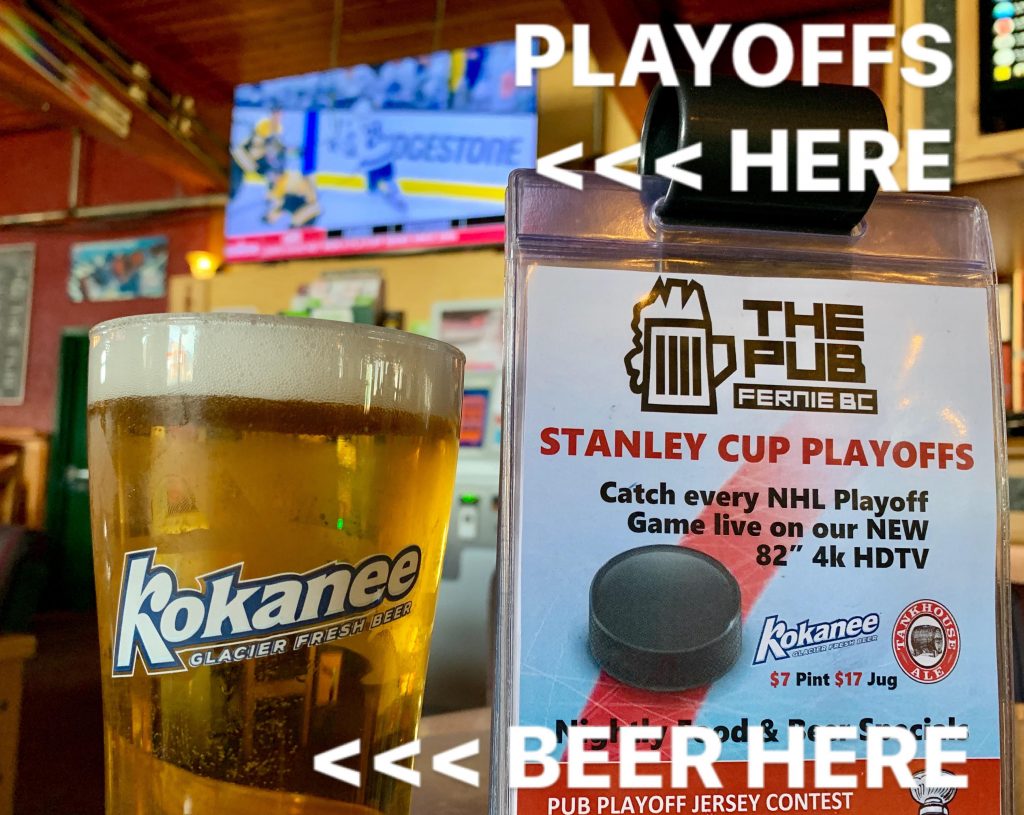 ---
Weekly Meal & Drink Specials: (as of June 21, 18)
Mexican Mondays: Chicken or Beef Tacos $3, Corona Bottles $5.75
Tuesday Wing Night: Basket of Ten Wings $6, Draft Beer Jugs $18.50
Wine Wednesdays : Featured Pub Burgers $15 ,  House Chardonnay or Red Rooster Riesling 60z. Glass $5.50
Trivia Thursdays: Featured Chef Special, Fernie Jugs $18
Fish Fridays: Fish n' Chips (2 pc) $12, OK Springs Pints $6.50
Rib Saturdays: Feature Ribs, Highballs $5
Off the Grill Sunday: Feature Share Plates, Sunday Caesars $5.75
Happy Hour runs daily 5-6 pm with $6 pints  (excluding Guinness & Cider on tap)
To view current menus of The Pub Bar & Grill please click on the following PDF files:
About Our Menu – Striving For Sustainability : In addition to making the majority of our menu items in house, we proudly feature regionally sourced produce from Red Hat Co-Operative Farms in Southern Alberta, high quality beef from Alberta ranchers, and  Ocean Wise seafood products.
---
Beer Menu – Whats on Untappd!
The Pub proudly features a full selection of craft beers and ciders both in bottles and cans along  with our 16 Tap draft system. View the full beer menu below or visit the Untappd Site and Download the App
---
The Pub Bar & Grill is open 12:00 Noon to 1:00 AM, Thursday to Saturday, and 12:00 Noon to Midnight, Sunday to Wednesday. Our full Pub Menu is available daily from 12:00 Noon to 10:00 PM.
With recent changes in provincial regulations, the Pub Bar & Grill is pleased to be family-friendly daily until 9 pm (Minors, if accompanied by a parent or guardian, are allowed in the Pub Bar & Grill until 9:00 PM)
To stay up-to-date on specials & events, check out our Events Page.
Please call us at 250.423.6871 for dining reservations and more information or visit our Contact Page for a list of appropriate hotel contacts.
---
Please note that when joining us to dine in the Pub Bar & Grill, all of our featured specials are produced in limited quantities and subject to availability at time of ordering.
Share This