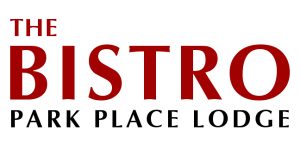 March 17, 2020 5;00 PM Update: The Bistro is now closed to the public until further notice as ordered by Interior Health due to the Covid-19 Situation.  We will still coordinate room service options for hotel guests during this time. Please contact the hotel guest service team for additional information For the most current information on the status of our operations due to the Covid-19 Emergency, please see our post: Park Place Lodge update on Covid-19 Concerns
Recently renovated, the cozy, comfortable Bistro offers guests a quiet, relaxed setting where you can enjoy great food & friendly conversation. Open for Breakfast & Lunch, the menu focuses home style comfort food & classics largely made from scratch, always served up with a smile.  Our daily and weekly specials keep our restaurant full of smiling faces.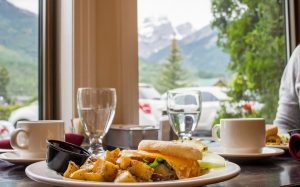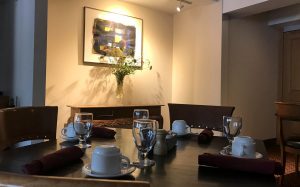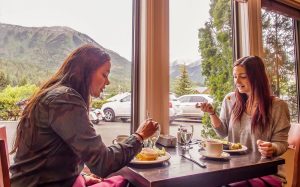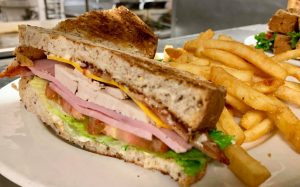 Signature dishes include:
---
Breakfast
 Traditional Eggs  – Two eggs any style, with choice of bacon, ham or sausage served with toast & hash browns
 Bistro Pancakes  – Two large pancakes, served with syrup & berries
 Eggs Benedict  – Two poached eggs on an English muffin, Canadian back bacon & hollandaise sauce, served with a side of hash browns
 Bistro Continental – House-made granola, yogurt,  fresh fruit served with multi-grain toast
During busy periods at the hotel, a delicous Breakfast Buffet is featured on select mornings between 7-9 am in the morning in order to best accommodate guests.
Please check with your server as to availability of A La Carte and Buffet options at time of seating.
---
Lunch
 Chicken & Avocado Salad – with orange slices, cucumber, tomatoes, carrots, & lime dressing
 Grilled Reuben Sandwich
 Philly Beef Dip
 Chris P Bacon Chicken Burger – with crisp fried chicken breast with bacon, cheddar & garlic aioli
---
Daily Lunch Specials
WEEKDAY SOUP & SANDWICH SPECIALS  ~ $10
MONDAY ~ Tomato Basil Soup, Grilled Ham & Cheese Sandwich
TUESDAY ~ Potato Bacon Soup, Ham & Corned Beef Philly with Mustard Sandwich
WEDNESDAY ~ Thai Coconut Basil Soup, Veggie Sandwich or Wrap
THURSDAY ~ Tuscan Bean Soup, Turkey & Swiss Sandwich
FRIDAY ~ Ham & Lentil Soup, Chicken Salad Sandwich
WE ALSO FEATURE DAILY HOT LUNCH SPECIALS
---
To view current menus of the Bistro Restaurant please click on the following PDF files:
---
About Our Menu – Striving For Sustainability: In addition to making the majority of our menu items in house, we proudly feature regionally sourced produce from Red Hat Co-Operative Farms in Southern Alberta, high quality beef from Alberta ranchers, and Ocean Wise seafood products.
To stay up-to-date on specials & events, check out our Events Page.
Please call us at 250.423.6871 for dining reservations and more information or visit our Contact Page for a list of appropriate hotel contacts.
For hotels guests wishing to dine in their rooms, the Bistro also offers room service.
---
What's in a Name
For those of you who have lived in Fernie for an extended time or for those guests who have visited the hotel over the years,  you will recognize the familiar name of the Bistro.  Although we have used other names over the years, with Max Restaurant being the most recent,  we felt it was time to go back to our roots. With the renovation and refresh of the restaurant space in Summer 2018, we wanted to bring back our original name. The Bistro, a tried and true classic, much like many of the favourite classic dishes we prepare in our kitchen!
---
Hours of Operation
Breakfast – 7:00 AM to 11:00 AM Daily (Sunday to Saturday)*
Lunch – 11:00 AM to 2:00 PM Daily (Sunday to Saturday)
Dinner – Closed** – Please join us for in our Pub Bar & Grill
* For early risers, we also offer a convenient Grab n' Go Breakfast option for hotel guests from 5:00 AM to 8:00 AM daily. During busy winter dates, we also offer a hearty breakfast buffet option from 7:00 AM to 9:00 AM.
** The Bistro Restaurant is closed for dinner service  and we encourage our guests to enjoy dinner service in our Pub Bar & Grill. Featuring comfortable seating, an outdoor patio and a delicious menu available daily from 12 Noon until 10:00 PM, the Pub Bar & Grill is also family-friendly until 9 pm (Minors, if accompanied by a parent or guardian, are allowed in the Pub Bar & Grill until 9:00 PM).
---
Please note that when joining us to dine in the Bistro Restaurant, all of our featured specials are produced in limited quantities and subject to availability at time of ordering.
Share This