Every Wednesday in July and August, the Wednesday Night Concert Series is a family-friendly, free concert in Station Square for the community with food trucks, beer garden, kids craft corner and DJ's. 5.30-9pm.
This week's artist, Deep Down Yonder, is a multi instrumentalist/Producer who combines live instruments such as five string banjo, guitar, bass, dobro and harmonica with home made electronic beats, samples, and synth pads. His sound is a whole new style of danceable, multi-layered, renegade electro-mountain music that blends genres and walks the line between country, funk, and psychedelic four on the floor house. Dennis Jaysen Charles is the man behind the beats and strings. He produces sound in a backwoods studio on an organic farm in British Columbia's Slocan Valley, dividing his time between music, parenthood, feeding chickens, growing vegetables, and piling wood.
His debut album, Journeys, is a melodic, bass and banjo driven exploration into the territory where acoustic and electronica meet.
Listen to the music and explore more here.
Listen to our YouTube channel with top songs from all the 2018 WCS bands.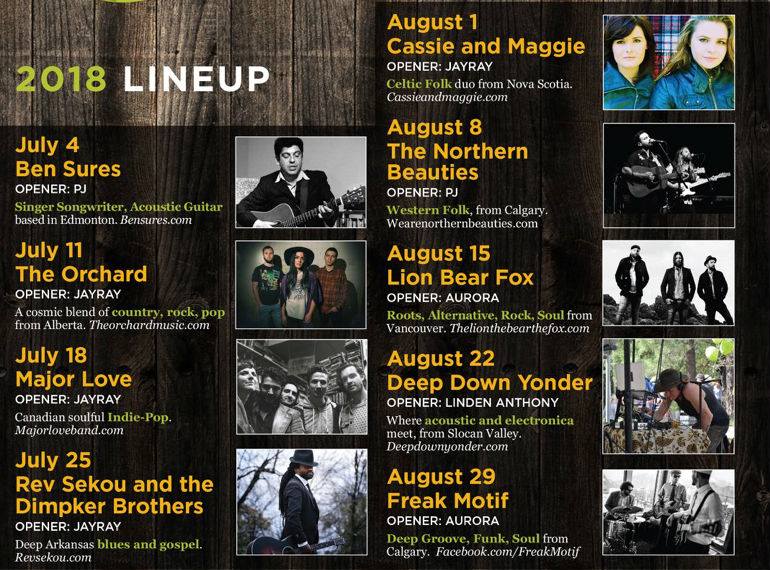 To view the full list of performances please see the Arts Station's Events Calendar.
The Park Place Lodge is a proud sponsor of the summer concert series and we are thrilled to help support the cultural vibrancy the Arts Station contributes to our community.
Please join us for a meal prior to the performance in Max Restaurant or the Pub Bar & Grill. We are only a short 5-minute walk away from historic downtown Fernie and the Arts Station.
In addition, if you are from out of town and would like to join us for a Fernie hotel stay to take in one of these wonderful concert performances, please call our toll-free reservations line at 1-888-381-7275 or Book Online
Share This