Join us on the first Friday of the month to enjoy complimentary samplings from our menu paired with tastings from regional wine, beer & spirits purveyors. The event also showcases featured regional artists or artisans each month.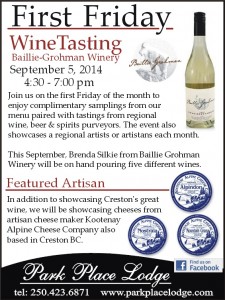 Featured Wine:
Baillie-Grohman Winery with Brenda Silkie
Brenda & Staff will be pouring samplings from Creston's Baillie-Grohman Winery.
2013 Gewürztraminer
2011 Chardonnay
2013 Blanc de Noirs Rosé
2011 Pinot Noir Estate
2011 Merlot / Cab Sauv
Featured Artisan:
In addition to showcasing Creston's great wine, we will be showcasing cheeses from artisan cheese maker Kootenay Alpine Cheese Company also based in Creston, BC.
 Mountain Grana
Nostrala
Alpindon
Friday Night Dinner Special:
We are also offering $0 Corkage Fee in Max Restaurant for Baillie Grohman Wines purchased from our Spirits Cold Beer & Wine Shop.
Featured Friday Special: Prime Rib Dinner
We hope you can join us!
Share This