As part of our Explore Fernie series, we take a look at one of our favourite locations for a mountain adventure in Fernie, Island Lake Lodge. Our Front Desk Manager, Kelly Staines, recently made the short trip up the Cedar Valley to visit Island Lake Lodge, and here is her first hand account:
---
Island lake lodge offers a world class experience of hiking, biking, dining and relaxing, with a view that's near impossible to beat. It is one of the most renowned places in Fernie, and a group of our Front Desk staff at Park Place Lodge were lucky enough to be invited to Island Lake Lodge to explore what this beautiful place has to offer.
Island Lake Lodge is located 2 kms past Fernie, off the highway and up a short access road through the depths of Fernie wilderness. Upon reaching Island Lake Lodge the view is the first thing to impress. It is everything that jumps to mind when you think of Canada – huge, stylish log cabins, snow-capped mountains and a surrounding of trees.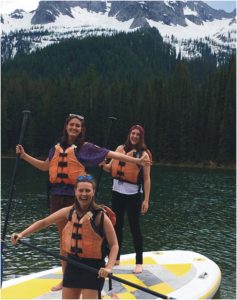 As stunning as the view is, it isn't close to being the only thing that Island Lake Lodge has to offer. After sipping on a few cocktails – we recommend the spiked blueberry iced tea – we took a short walk down to the lake, and tried out our skills on the water. Too scared to try out paddle-boarding alone, four of us got on a SUP board and had a trip around the lake. This is the perfect way to build up confidence and appreciate that it's really not so difficult! You'll be on your own paddle board in no time. For the more relaxing ride, jump into a Kayak and paddle out to the jetty in the middle of the lake and enjoy a bit of sun.
If water sports aren't for you and biking or hiking is more your thing, there are plenty of trails surrounding the lodges – with hike times ranging between 45 minutes to 12 hours! So it's not difficult to find something everyone will enjoy.
Island Lake Lodge offers a full dining experience with breakfast, lunch, and dinner. You don't have to be staying at the lodge to eat here either. The restaurant is open to all members of the public, and special events are hosted such as Date Night Mondays, and Wine Tasting Wednesday. What better way to treat your partner (or even just yourself) to something special.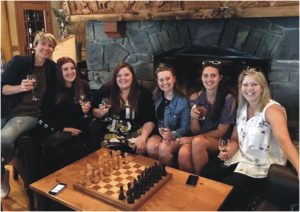 For additional information on an Island Lake adventure visit the Island Lake Lodge Website and for more great ideas on how to explore Fernie visit TourismFernie.com
---
We hope to see you in Fernie for a visit this summer and we encourage you to take advantage of our great  Vacation Specials this here at the Park Place Lodge.
Book Online or give us a call at 1-888-381-7275 to  book your spectacular vacation to Fernie this summer!
Share This