On Tap & on Menu is our seasonal update on two things we love here at the Park Place Lodge: refreshing new beers and tasty menu items!
---
What's on Tap at the Pub
We can't go a week in the Pub without one of our patrons asking when we can get more Phillips Beer on tap.  Considered  to be one of the founders of  Vancouver Island's bourgeoning micro brewery scene, Phillips's reputation for creativity and  quality has led to a steady growth of fans in BC including ones on the other side of the province here in Fernie.  While many beer enthusiasts have chosen the Blue Buck Ale as their favorite (and we agree it's good), our patrons have spoken and the Electric Unicorn is still the beer of choice in the Pub!
Electric Unicorn White IPA –Phillips Brewery 6.5% ABV / 75 IBU
A fruity, spicy, refreshing version of an American IPA but with a lighter color, less body and featuring either the distinctive yeast and/or spice additions typical of a Belgian witbier.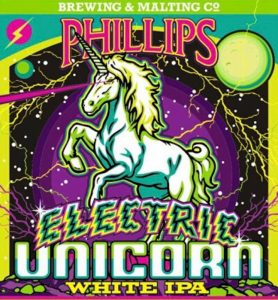 Our full list of craft beers are now listed on Untappd and the full beer menu can be viewed on our website here: Pub Beer Menu
As an added bonus, you can pick up a bottle of the Electric Unicorn White IPA to enjoy afterwards at home from our Spirits Cold Beer & Wine Shop.
---
What's on the Menu
With the recent introduction of our summer menu, we thought we'd showcase one of the new dishes that has already proven to be a hit. After returning from a recent family visit to the UK and visiting his friend's pub, our Chef, Chris Henderson was convinced (or perhaps enlightened) that we should introduce our own version of a Buddha Bowl.  While the ingredients change weekly, these creative vegetarian dishes are both filling and delicious. This week's feature Buddha Bowl was a sweet potato steak with chimichurri salad & rice bowl. Be sure to ask the your server what the weekly featured bowl is the next time you're in the Pub for dinner.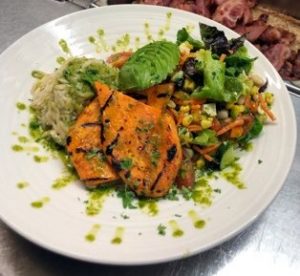 P.S.  This week's Buddha Bowl pairs incredibly well with a pint of the Electric Unicorn White IPA!
---
To see the full menus featured in the Bistro Click Here and the Pub Click Here.
We hope to see you at the Park Place Lodge here in Fernie BC for a tasty meal and refreshing craft beer soon!
Share This