On Tap & on Menu is our seasonal update on two things we love here at the Park Place Lodge: refreshing new beers and tasty menu items!
---
What's on Tap at the Pub
With summer in full swing in Fernie BC, our staff and patron's taste preferences have shifted back towards crisp, refreshing brews especially beers with a hint of fruit flavor. Although having to close much of the spring due to Covid-19 it also gave us a chance to recalibrate and identify some great products we wanted to ensure were on the menu when we re-opened this summer. Here are two great beers currently featured on tap this summer in the Pub Bar & Grill:
Finish Line Hazy Pale Ale – With Lime Fernie Brewing Company 4% ABV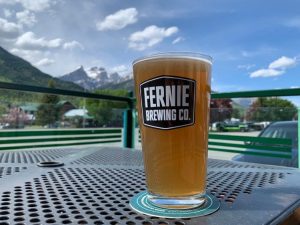 This new release from Fernie Brewing was created with the adventurer in mind. A refreshing, light Hazy Pale Ale with a hint of lime. Lower in alcohol, but high in flavour. Packed full of Citra and Vic Secret hops, and a hint of lime, this lower alcohol beer is the perfect pairing to any and all of your summer adventures.
SunSetter Summer Ale Stanley Park Brewing 4.8% ABV 16 IBU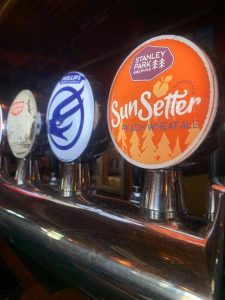 Ripe peach flavour and bold Citra hops set the mood in this unfiltered summer ale. The refreshing SunSetter Peach Wheat Ale is the perfect partner for soaking up every last drop of sun.
Both of these beers are the perfect choice to enjoy on our Pub patio after a day of adventure in Fernie.
Our full list of craft beers are now listed on Untappd and the full beer menu can be viewed on our website here: Pub Beer Menu
As an added bonus, you can pick up both of these tasty beers to enjoy afterwards at home from our Spirits Cold Beer & Wine Shop.
---
What's on the Menu
Now that it has been on the menu for the last few years, we can confidently say this is one of the Pub's most popular burgers and possibly one of the most popular burgers in any restaurant in Fernie. The Brie & Bacon Jam Burger features a house-made 6 oz. beef patty with melted Brie, spinach and a special house-made bacon jam. That's right, bacon jam and it's delicious!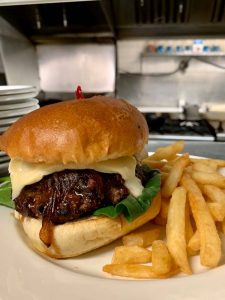 P.S.  This burger pairs incredibly well with a pint of the SunSetter Summer Ale!
To see the full menu featured in the Pub Click Here.
---
We hope to see you at the Park Place Lodge here in Fernie BC for a tasty meal and refreshing craft beer soon! Also, if you are craving a tasty burger but want to enjoy it from the comforts of your home, we are happy to provide take-out service with our full menu. Simply call 250-423-6871 to place your order.
Share This