On Tap & On Menu is our seasonal update on two things we love here at the Park Place Lodge: tasty menu items and refreshing new craft beers!
What's New on the Menu
As we shift into the cooler fall season, many of our patron's appetites shift toward meatier, heartier dishes. One of our most popular items is our Classic Steak Sandwich featuring  Alberta beef house-cut served on garlic toast. We recently tweaked this menu item to include a goat cheese, bruschetta & balsamic glaze topping which, in our opinion, is a perfect complement to a well cooked steak!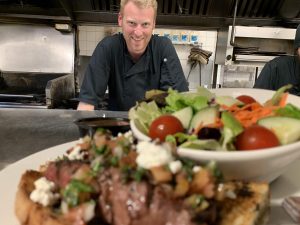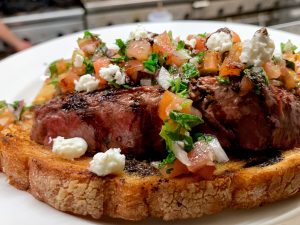 The Steak Sandwich is available on our lunch menu in the Bistro as well as the lunch and dinner menus of the Pub. To see the full menus featured in the Bistro Click Here and the Pub Click Here.
---
What's on Tap in the Pub
October is BC Craft Beer Month so we thought it was appropriate to highlight two of our favourite craft breweries from BC, Fernie Brewing Co and Phillips Brewery:
Black Magic Dark Ale, Phillips Brewery
Pours a gorgeous dark mahogany with ruby highlights. Roadty, caramel flavors up front are balanced by a low bitterness and slightly sweet mid-palette. It finishes with a pleasant dryness that is super clean and satisfyingly drinkable, perfect for a cool fall evening!
Slingshot Session  IPA, Fernie Brewing Co
For those who want to ease into autumn with something a little lighter, the Slingshot Session is lower alcohol alternative IPA. Regular IPA imbibers will not be disappointed with our selection of traditional and some of the newest available hop cultivars. Dry hopped with Amarillo, Citra, Simcoe and Mosaic, to provide the distinct citrusy, tropical fruit and pine flavours and aromas. Resulting in a refreshing and easy drinking Session IPA. Right on target.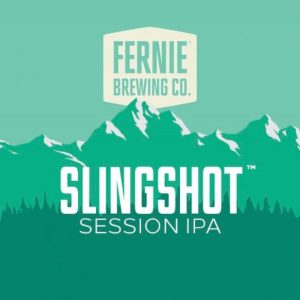 Although you can't go wrong with either of these beers, our unofficial food & beer testers agree that the Black Magic Dark Ale is the beer of choice to pair with a Steak Sandwich this fall.
As an added bonus, you can also pick up cans of both of these tasty brews from our Spirits Cold Beer & Wine Shop.
Cheers!
---
Don't forget that October is BC Craft Beer month and our full list of craft beers (including some of BC's finest) are now listed on Untappd and the full beer menu can be viewed on our website here: Pub Beer Menu
We hope to see you at the Park Place Lodge for a tasty meal and refreshing craft beer soon!
Share This