On Tap & on Menu is our seasonal update on two things we love here at the Park Place Lodge: refreshing new beers and tasty menu items!
---
What's on Tap & on the Menu at the Pub
The rain has disappeared, the sun is finally starting to melt the snow in the alpine and we have been patiently waiting to enjoy a cool one on a sunny patio! As we look forward to sunnier days in Fernie, here is one great beer and one great new salad currently featured  at the Pub Bar & Grill: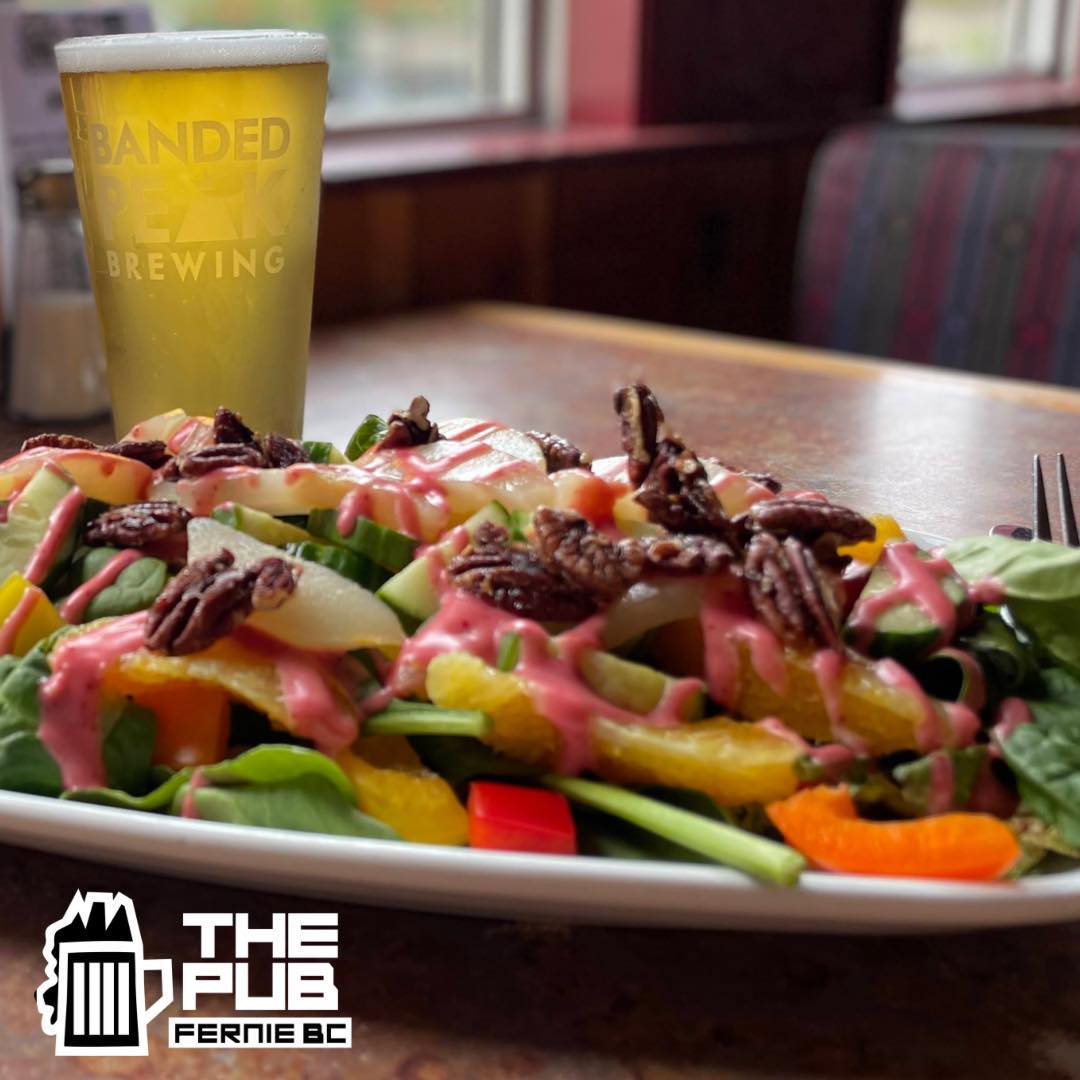 Banded Peak Mount Crushmore Pilsner
Hailing from Banded Peak Brewing in Alberta, Mount Crushmore is the beer version of spring skiing. Mount Crushmore is audacious like wearing a vintage one-piece snowsuit with fluorescent racing stripes, effervescent like champagne powder and eminently crushable like hard-charging fresh tracks at the local hill on a sun drenched weekday morning. Fermented cold and conditioned for guaranteed crispiness. You have arrived at the pinnacle of pilsner. Sounds like the perfect fit for a mountain ski town like Fernie!
New on the Menu – Pear & Orange Salad
Just in time for summer, this tasty new salad features pear, orange, cucumber, spinach, peppers, pecans & a cranberry-raspberry vinaigrette, served with garlic toast. For those looking to add a protein, choose from grilled chicken, prawns or steak which all taste delicious with this citrus filled salad. Pair this salad with a crisp pilsner for an enjoyable meal on the Pub Patio this summer. Cheers!
To see the full menu featured in the Pub Click Here. Don't forget that our full Pub menu is available for dine-in or take-out service.
As an added bonus, you can pick up a 6-pack of this tasty beer to enjoy afterwards at home from our Spirits Cold Beer & Wine Shop.
---
We hope to see you at the Park Place Lodge here in Fernie BC for a tasty meal and refreshing craft beer soon!
Share This