The Park Place Lodge hosted members of the Fernie Trails Alliance to our First Friday event earlier this month where we were pleased to present them with a cheque for the amount of $1989.50.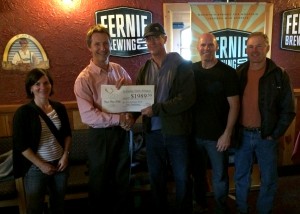 The donation was part of an annual fundraising initiative held in the Pub during July and August where Park Place Lodge donated 50 cents from every Fernie Brewing Company Pint sold to the Fernie Trails Alliance in support of local mountain biking & hiking trail maintenance.
Thanks to Fernie Brewing Company and our Pub staff for helping support this initiative. Also a big thank-you goes out to all the Fernie Trails Alliance members and partner organizations who continue to build and maintain some of the best trails in the Canadian Rockies.
Cheers!
Share This