The Fernie Ghostriders and Golden Rockets begin their first round of playoffs Wednesday, February 18th at the Fernie Memorial Arena, kicking off a best-of-seven series to decide who will advance from the KIJHL's Eddie Mountain division.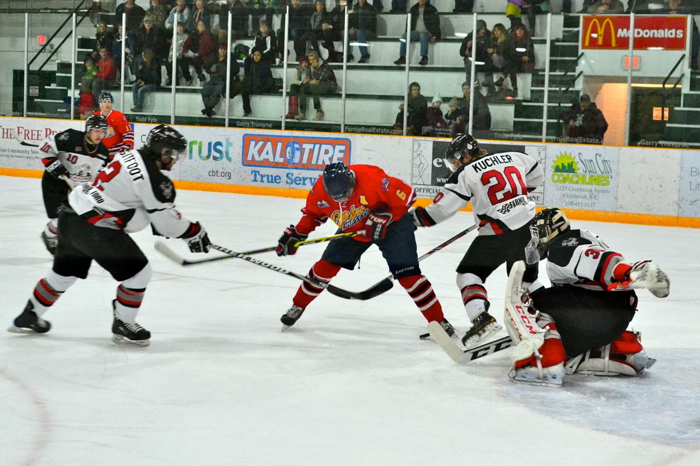 With the hotel just a short 1-block walk from the arena, the Park Place Lodge is the perfect location for your pre and post-game festivities. Join us for dinner in Max Restaurant or the Pub Bar & Grill  before all Ghostrider 2015 Playoff Home Games & purchase a Game Ticket for just $9 (Regular $12).
Remember to show up early to get to the game on time!
Offer Details: Limit one ticket per person with min. $10 food purchase in The Pub or Max Restaurant. Not valid with any other discount or promotion.
The Round 1 playoff schedule features four games in Fernie and three in Golden:
Wednesday, Feb. 18, 7:30 p.m.     Golden Rockets at Fernie Ghostriders
Friday, Feb. 20, 8:00 p.m.              Fernie Ghostriders at Golden Rockets
Sunday, Feb. 22, 7:30 p.m.            Golden Rockets at Fernie Ghostriders
Monday, Feb. 23, 7:30 p.m.           Fernie Ghostriders at Golden Rockets
Wednesday, Feb. 25, 7:30 p.m.    Golden Rockets at Fernie Ghostriders (if necessary)
Friday, Feb. 27, 7:30 p.m.              Fernie Ghostriders at Golden Rockets (if necessary)
Saturday, Feb. 28, 7:30 p.m.         Golden Rockets at Fernie Ghostriders (if necessary)
To stay up to date on the Fernie Ghostriders Playoffs Game Schedule visit http://www.fernieghostriders.com/
For more on this great matchup read the recent article by Sara Moulton of the Fernie Free Press – http://www.thefreepress.ca/sports/292413441.html
Share This