This year the Park Place Lodge is serving as the host venue for the Fernie Rotary Elk Valley Festival of Trees being hosted from November 18th to December 4th. We are thrilled to be a sponsor and host venue for this wonderful community festival which features a number of great events including the Senior's Lunch & Tea held on November 23rd.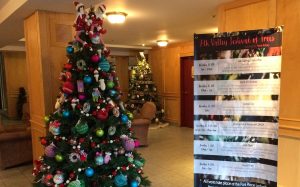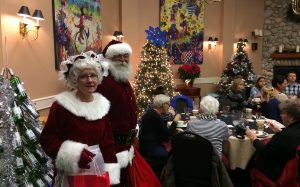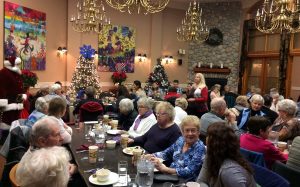 A big shout out goes to Teck and the Fernie Rotary who hosted this fantastic afternoon. Over 100 seniors from across the Elk Valley joined us at the hotel to tour all of the beautiful Christmas Trees as well and enjoy a delicious lunch in Max Restaurant. Everyone even had a chance to visit with Mr. & Mrs Claus!
If you would like to view all of these beautifully decorated Christmas Trees, they will be on display in the hotel lobby until December 4th. You can also support Fernie Rotary fundraising efforts by voting for your favourite tree.  You can learn more about the Elk Valley Festival of Trees by visiting their Facebook Page.
We invite you to join us for lunch or dinner in the hotel and then set aside some time to check out all the wonderful trees! Alternately, you can plan to attend one of the many festive events organized around the Festival of Trees. Visit our Fernie Events Page to stay up to date on all the festive happenings at Park Place Lodge including our 16th Annual Santa Claus Pancake Breakfast.
For a full list of other festive events in Fernie leading up to Christmas you can also visit the Tourism Fernie Website.
The Park Place Lodge is a proud sponsor of the Festival of Trees and we are thrilled to help support the Fernie Rotary in efforts to make our community such a wonderful place to live.
If you would like to join us for a Fernie hotel stay and take in one of these wonderful festive events please call our toll-free reservations line at 1-888-381-7275 or Book Online.
Share This