On Tap & on Menu is our seasonal update on two things we love here at the Park Place Lodge: refreshing new beers and tasty menu items!
---
What's on Tap & On Menu at the Pub
October delivers the cool & colorful fall weather along with the Pub's annual BC Craft Beer & Burger Month. During this month, we celebrate two things we are passionate about here in the Pub ….. delicious hamburgers and BC craft beers!  We are featuring our own specialty craft burgers paired with BC craft beers. You can choose from 1 of 6 specialty burgers: Peppercorn & Gruyere Burger, Crispy Buffalo Chicken Sandwich, the Turkish Chicken Burger, Vada Pav Potato Burger, Sticky BBQ Pork Belly Burger or a Pub Classic Cheeseburger  all paired with a refreshing BC Craft Brew from some of our favourite brewers. View the full BC Craft Beer & Burger Menu Here
For this On Tap & On Menu post, we thought we would highlight one of the featured new burgers, Sticky BBQ Pork Belly Burger, along with a new favourite, the Headwall Hazy Pale Ale from Fernie Brewing Co. which are both featured on this year's BC Craft Beer & Burger Menu: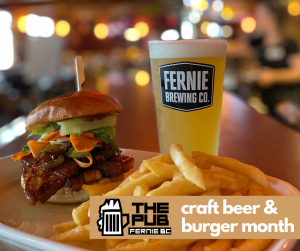 Featured Burger: Sticky BBQ Pork Belly Burger – This new addition for October features seared pork belly with pickled cucumbers, beets & carrots topped with jalapeno peppers.
Featured Beer: Headwall Hazy Pale Ale – Our suggested beer pairing to go with this tasty burger is FernieBrewing Co's new Headwall Hazy Pale Ale. This is well-balanced and easy-drinking brew, with notes of tropical fruit flavour peeking out from a light, hoppy base. The fruity hoppiness of this beer strikes a great balance with the sweet sticky flavours of the pork belly burger.
Make sure to try out this pairing during the Pub's BC Craft Beer & Burger month!
---
Also don't forget that you can  pick up all of Fernie Brewing Co's  tasty beers to enjoy afterwards at home from our Spirits Cold Beer & Wine Shop.
We hope to see you at the Park Place Lodge here in Fernie BC for a tasty meal and refreshing craft beer soon! If you are planning to visit from out of town, make sure to take advantage of our Getaway Packages featured this fall.
Finally, if you are craving a tasty burger but want to enjoy it from the comforts of your home, we are happy to provide take-out service with our full menu. Simply call 250-423-6871 to place your order.
Share This