On Tap & on Menu is our seasonal update on two things we love here at the Park Place Lodge: refreshing new beers and tasty menu items!
---
What's on Tap & On Menu at the Pub
October delivers cooler fall weather along with the Pub's annual BC Craft Beer & Burger Month. During this month, we celebrate two two things we love ….. delicious hamburgers and BC craft beers!  We are featuring our own specialty craft burgers paired with BC craft beers. You can choose from 1 of 5 specialty burgers: Pulled Pork Mucky Ringer, Brie & Bacon Jam, Jalapeno Cream Cheese, Chicken Teriyaki, and the Portobello Caprese all paired with a refreshing BC Craft Brew. View the full BC Craft Beer & Burger Menu Here
For this On Tap & On Menu post, we thought we would highlight two tried and true Pub favorites, the Brie & Bacon Jam Burger and Project 9 Pilsner from Fernie Brewing Co. which are both featured on this year';s BC Craft Beer & Burger Menu (Check out the tasting notes for more info on this great beer below)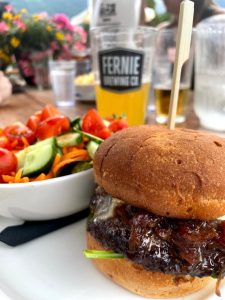 Brie & Bacon Jam Burger: Featuring our house-made 6 oz. beef patty with melted Brie, spinach and our amazing house-made bacon jam, this burger pairs well with the crispness of the  traditional pilsner and just feels like …… Fernie on a perfect sunny fall day!
---
Project 9 Pilsner Fernie Brewing Company  5% ABV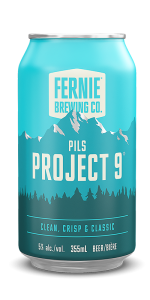 Clean. Crisp. Classic. A true Bavarian Pilsner with exceptional continental hop flavour that can only be achieved by selection of fine noble hops including the Saaz variety.The use of Munich and Pilsner malts and time honoured brewing methods produces a clean, crisp Bavarian Pilsner that is truly transcendent. FBC's multi-award-winning flagship brew.
---
Please join us in the Pub and don't forget that  if you order all 5 featured Craft Burgers in October, collect a passport stamp from your server & be entered to win a Cruiser Bike ($400 Value).
Also don't forget that you can  pick up all of Fernie Brewing Co's  tasty beers to enjoy afterwards at home from our Spirits Cold Beer & Wine Shop.
We hope to see you at the Park Place Lodge here in Fernie BC for a tasty meal and refreshing craft beer soon! If you are planning to visit from out of town, make sure to take advantage of our Getaway Packages featured this fall.
Finally, if you are craving a tasty burger but want to enjoy it from the comforts of your home, we are happy to provide take-out service with our full menu. Simply call 250-423-6871 to place your order.
Share This